2018 – Fumo negli occhi
Italian theatre is back in Brisbane for a second year!  After last year's sell-out Italian language production, Danteatro and Growl Theatre are collaborating again to present a show entirely in Italian. With English translation displayed above the stage (surtitles) for those who don't speak the language, or for hearing impaired.
Fumo negli occhi / "Keeping up with the Brandolinis"
commedia brillante in due atti di Faele e Romano
A comedy in two acts by Faele and Romano
DIRECTOR
Matteo Melzi
CAST
Carlo Brandolini … Vincenzo Ferraioli
Teresa Brandolini … Camilla Peverati
Patrizia Brandolini … Chiara Castellani
Lello Brandolini … Daniel Giorgi
Nonna … Eleonora Ginardi
La signora De Marchi … Tiziana Miceli
Marietta … Angela Di Capua
Ladro … Matteo Melzi
Voce fuori campo di un soldato … Eddo Coiacetto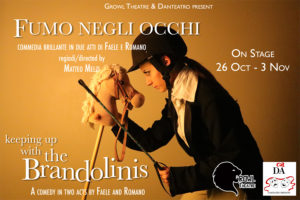 SYNOPSIS
Keeping up appearances in front of the neighbours takes hard work and clever tactics. All the more so when we are in 1960s Italy, with the economy booming, incomes rising, and more and more households acquiring consumer goods such as a fridge, a car, or a television set. Meanwhile, young people are rebelling – embracing revolutionary politics, rock music and… yoga!