2024 Season – Arsenic and Old Lace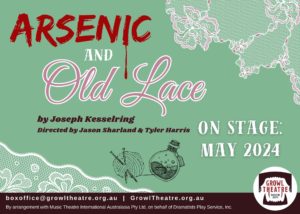 By Joseph Kesselring
Directed by Jason Sharland and Tyler Harris
Synopsis
Mortimer Brewster, a drama critic, has just become engaged to the girl-next-door, and his sweet, spinster aunts couldn't be happier. However the joy of his announcement is overshadowed by the antics of his wildly eccentric brother Teddy (who thinks he is President Roosevelt) and the arrival of another long-lost, maniacal and murderous brother, Jonathan. The aunts are most put out as Jonathan's arrival and plan to bury his latest victim in the cellar could seriously hinder their "charity work".
Can Mortimer protect his aunts, save his engagement, rid them of Jonathan, all while keeping his own sanity? A madcap American classic from the 1930s.
Show Dates
17, 18, 19, 24, 25, 26, 31 May, 1 June 2024
Crew
Directors … Jason Sharland, Tyler Harris
Cast
This show has not been cast yet.