Open auditions for "The Hollow"
We're holding open auditions for our third play for 2017 – Agatha Christie's "The Hollow"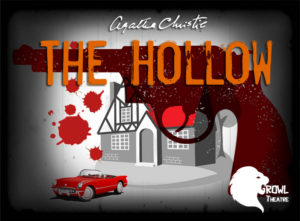 SYNOPSIS
An unhappy game of romantic follow-the-leader explodes into murder one weekend at The Hollow, home of Sir Henry and Lucy Angkatell.  Dr Cristow is at the centre of the trouble when his mistress Henrietta, ex-mistress Veronica, and wife Gerda, simultaneously arrive at The Hollow.  Also visiting are Edward (who is in love with Henrietta) and Midge (who loves Edward).
Veronica ardently desires to marry Cristow and succeeds in reopening their affair, but is unable to get him to divorce his wife. Veronica unwisely states that is she cannot have him, no one shall.  Within five minutes, Cristow is dead.  Nearly everyone has a motive and most had the opportunity.  Enter Inspector Colquhoun and Sergeant Penny to solve the crime.  
AUDITION DATE: Monday 29th May
TIME: 6:30 – 9:00pm
CALL BACK/FOLLOW UP: Thursday 1st June 6:30 to 9:30pm as required, Sunday 4th June as required
HOW TO AUDITION:
Download the Audition Pack (PDF) and check the dates.  If you cannot make any of the performance dates or have the possibility of a conflict, do not audition.  Unavailability for a number of rehearsals would also preclude your involvement.
Fill out the Audition Registration form with your name, phone number and role/s you're auditioning for.
Prepare the Audition Piece (PDF) for the role/s you are interested in auditioning for.
ROLES:
Henrietta Angkatell – Female, 30-35 years (238 lines)
A handsome young woman of about thirty-three, dressed in good country tweeds and over them a painter's overall. Henrietta is intelligent, aristocratic and artistic.
Sir Henry Angkatell – Male, 60+ years (97 lines)
A distinguished-looking, elderly man.  He is an English aristocrat who lives a comfortable life, despite the eccentricities of his wife.
Lady Angkatell – Female, 60+ years (148 lines) 
A very charming and aristocratic looking woman aged about sixty, completely vague but with a lot of personality.
Midge Harvey – Female, 25-30 years (224 lines)
Small, neatly dressed but obviously badly off. She is a warm-hearted, practical and very nice young woman, a little younger than Henrietta.
Gudgeon – Male, Open age (67 lines)
In all respects the perfect butler.   Age is open, although Gudgeon is meant to be stable and highly respected; the indication is that he is an older man.
Edward Angkatell – Male, 35-45 years (154 lines)
A tall, slightly stooping man, between thirty-five and forty-five, with a pleasant smile and a diffident manner. He is a bookish man and wears well-cut but rather shabby tweeds.   Edward is well off, and largely oblivious.
Doris – Female, Open age (21 lines)
The maid. She looks slightly half-witted and is terrified of Gudgeon.
Gerda Cristow – Female, 35-45 years (102 lines)
She is timid, insecure and overshadowed by her husband who seems to be 'out of her league'.
John Cristow – Male, 35-45 years (121 lines)
John is a good-looking man of thirty-eight with a dynamic personality, but is somewhat brusque in manner.   He has a certain charm, but could be considered arrogant.
Veronica Craye – Female, 30-45 years (74 lines)
She is a very beautiful woman and knows it.   She is meant to be a prominent actress and people comment about her striking appearance.
Inspector Colquhoun – Male, 35-60 years (207 lines)
A thoughtful, quiet, intense man with charm and a sense of humour. His personality is sympathetic. He must not be played as a comedy part.
Detective Sergeant Penny – Male, 35-60 years (57 lines)
The police foil for the inspector.  The Detective Sergeant is a thorough, if not especially gifted, policeman.