Auditions
Mary Rose by J.M. Barrie.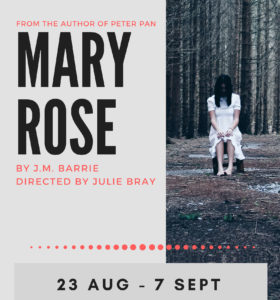 Directed by Julie Bray.
Audition date: Wednesday 5th June, 6:30pm
How to Audition
Download the Audition pack PDF (contains character descriptions, rehearsal schedule and audition pieces)
Fill out the Audition registration form.
Practice and prepare a 2-3 minute dramatic monologue
Characters (description & ages)
PLEASE NOTE: The ages listed below are character ages.
Mrs Otery – Female, Age 45+
The cantankerous caretaker of the English manor house in which the story is set.
Harry – Male, Age 20-40 years
An Australian soldier recently returned from World War I who inspects the house.
Mary Rose – Female, Age 18 – 25 years (character age – 18 years)
A childlike young woman, 18 years old.
The following roles are played as 2 different ages, 20 years apart. Some costume, hair/makeup effects will be used, but ideally the actor needs to be able to show the difference in age through their mannerisms and portrayal.
Simon – Male, Age 20-25 years and 40 years*
The future husband of Mary Rose. The actor will play the role as younger (20-25 years) and again older (40 years)
Mrs Morland – Female, Age 40 years and 60 years*
The mother of Mary Rose.
Mr Morland – Male, Age 40 years and 60 years*
The father of Mary Rose
Mr Amy  – Male, Age 40 years and 60 years*
A friend of the Morland family
Cameron – Male, Age 20 years and 40 years*
A Scottish Highlander. (Ability to do Scottish accent is essential.)
* these are approximate ages and broader age range will be considered
About the Play
"Mary Rose" is written by JM Barrie, best known as the author of Peter Pan.  It is a haunting play about a sinister Scottish island and a girl who never grows up.
A soldier sits staring into the fire in an empty, dark house while an unsettling and tragic history unfolds before him. Written in the aftermath of the First World War, Barrie's play about loss and the mystery of life is by turns comic, eerie and heartbreaking.
---
Or become a member and receive our Members Newsletter (every 2 months) with updates about auditions, volunteer opportunities for crew roles, working bees and social activities.
Please let us know if you are interested in other aspects of theatre – including Stage Management, Backstage Crew, Lighting & Sound, Set Construction, Front of House, Props & Costumes. We need willing volunteers to assist in all areas.