Auditions – Trois versions de la vie
[two_third]
Growl Theatre Company is calling for French-speaking actors to be a part of their up
and coming production;
Trois versions de la vie
By Yasmina Reza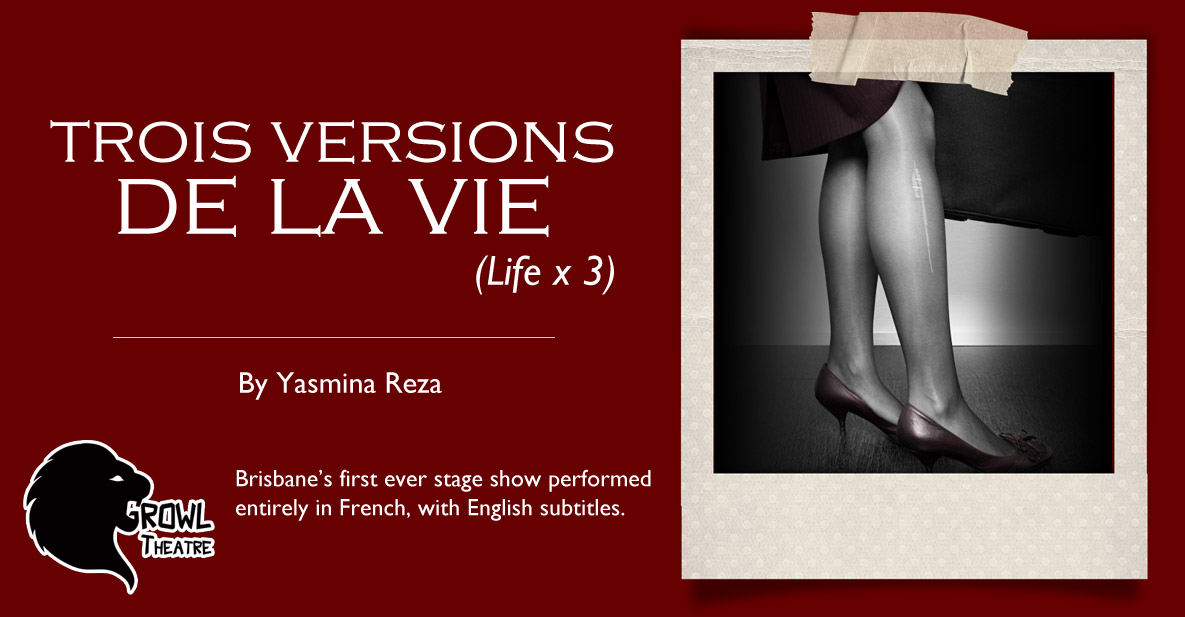 A scathingly hilarious commentary on vanity, professional insecurity and the vicissitudes of marriage, Trois versions de la vie presents three versions of two couples trying to make a success of an evening even though they neither like nor respect one another.
This will be Brisbane's first ever stage show performed entirely in French with the inclusion of English subtitles.
We are calling for amateur actors and people who have an interest in theatre. This is an amazing opportunity to be a part of a Brisbane first, to develop your theatre skills and meet some new people in the process.
Synopsis
When Hubert and Inès arrive unexpectedly for dinner at the home of Henri and Sonia, an improvised meal of chocolate fingers, potato chips and wine ensues as the couples trade insults on every social and professional level and loyalties are changed with the same rapidity that glasses of Sancerre are drained.
Characters
Henri
Male
Sonia
Female
Hubert Finidori
Male
Inès Finidori
Female
All ages are being considered! Anyone over 18 should apply.
[/two_third] [one_third_last] [icon_box title="Where" caption="Audition venue" icon="marker"]Windsor School of Arts Hall
381 Lutwyche Road, Windsor[/icon_box] [icon_box title="When" caption="Audition time & date" icon="calendar"]Saturday 23rd & Sunday the 24th of May.
(To register for an audition, please email and
include your name and contact phone number)
[/icon_box] [icon_box title="Information" caption="Important information for actors" icon="pencil"]
Rehearsals:
Mon & Thurs nights (6:30-9:30pm), some Sundays (10:30-2:30pm)
Show Dates:
6, 7, 8 August
Audition Requirements:
If you are cast, it is expected of you to:
Become a financial member of Growl Theatre. This covers insurance for our members.
Commit fully to performances
Attend the vast majority (if not all) rehearsals and arrive on time (usual times 6:30-9:30pm)
Pitch in for all aspects of the production. As a community group, we sometimes ask our actors to help source props, costuming and help clean and tidy the hall.
[/icon_box] [/one_third_last]
Sign up to our mailing list to be kept informed about upcoming auditions.