Auditions – MAD
MAD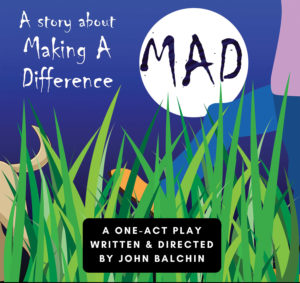 Written and directed by John Balchin.
Audition date: Sunday 10 February, 10:00am
How to Audition
Download the Audition Pack PDF with character descriptions and rehearsal schedule.
Register to audition by filling out the Registration Form with your details
Prepare a 1 minute dramatic monologue of your choice.
About the play
Written by Growl member, John Balchin, this one-act play will be performed during Autism Awareness Month (April 2019). The story takes place in a housing commission home, two males live there. They are both intellectually impaired. One has about 10-15% vision and is also non-verbal although he is able to make sounds he is also very deaf. He was born with Fetal Alcohol Syndrome and has several conditions which relate to that. The other has ASD (autism spectrum disorder) and OCD (obsessive compulsive disorder). They have both been in care for several years and have 24/7 accommodation support.  They have several disability support workers who take care of their day to day needs.
This play takes place over a 24 hour period and is essentially about the relationship between the two residents and the support workers.
Characters (description & ages)
Peter is 40-50 years of age and has been living with Arthur for a few years, Peter has OCD and is also Autistic.  Although he has some challenging behaviour he is intelligent and cares for Arthur. Actor will be required to learn how to build and fly paper planes. Full instructions will be provided.
Arthur is 20-30 years of age, he was born with Fetal Alcohol Syndrome and has several conditions which relate to that, one of which is poor hearing and another is poor sight.  This role is a non-speaking part but is a pivotal role. The actor will need to be prepared to learn Auslan/Makaton for the last piece of dialogue. Resources and training will be available.
Michael (any age) has been a disability support worker for many years, much longer than Tony and Harry and has been working with both Peter and Arthur for a long time.  Michael takes his work seriously and feels that it is his responsibility to ensure that Peter and Arthur have quality of life.
Tony (any age) has been working with Arthur for a long time and is one of Arthur's main carers, he knows Arthur well.
Harry is 20-30 years of age and has been a disability support worker for a few years and sometimes finds it all a bit too hard, he also has some personal stuff happening which is affecting his work.
Locksmith: this is a small female role any age, she knows Arthur and Peter and is used to Peter's little outbursts.
---
Or become a member and receive our Members Newsletter (every 2 months) with updates about auditions, volunteer opportunities for crew roles, working bees and social activities.
Please let us know if you are interested in other aspects of theatre – including Stage Management, Backstage Crew, Lighting & Sound, Set Construction, Front of House, Props & Costumes. We need willing volunteers to assist in all areas.